Interview
Dialogue with Architect Cesar Pelli
"Design on Response" is an architectural design methodology capable of contributing to a city's attractiveness. We interviewed U.S. architect Cesar Pelli, who developed this approach, about the origins of his ideas as an architect, and about his ideal cities and architectural creations.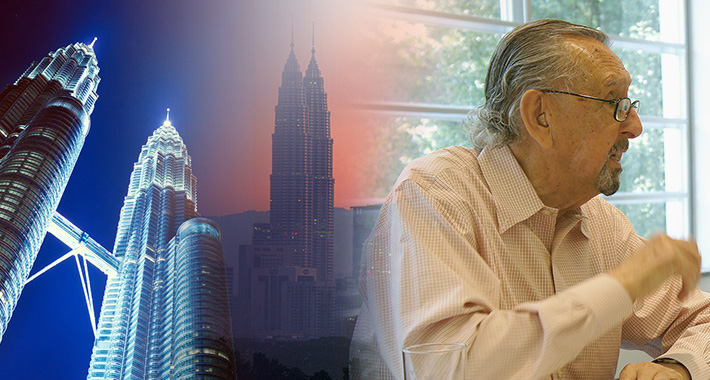 Designs serving cities: Ideas that shaped architect Cesar Pelli
What made you decide to become an architect?
Cesar Pelli:
As a young person, I really didn't know what to study. There were no architects in my hometown of San Miguel de Tucumán (Tucumán) in Argentina. At university, however, I came across a job offer that involved drawing old buildings, which I tried and found to be very enjoyable. I was fascinated not just by drawing but by imagining what the building did, what it housed, and what effect it had on people's lives. I think that was the catalyst. This was over sixty, almost seventy years ago! I still love drawing buildings.
Who influenced you as an architect?
Pelli:
Two people had a major influence on me: Le Corbusier*1 and Eero Saarinen*2. I studied Le Corbusier's work and ideas when I was in Tucumán. The department of architecture at the National University of Tucumán at the time was actively studying the latest movements in modernism, and its education in this area was far more progressive than that of many U.S. universities, where such trends were only just beginning to be embraced. Le Corbusier and International Style*3 had a design philosophy encompassing everything from spoons and furniture to architecture and cities. I was fortunate to have had the chance to learn about this idea, which was extremely radical at the time, when I was still a student. Through the work and theories of Le Corbusier I learned architectural thinking and possibilities, which remain at the roots of my ideas to this day. This is especially true about the idea of making architecture respond to contemporary technology, which is the cornerstone of modernism, and something I believe is extremely important.
Having moved to the U.S. at the age of 26, you studied at the University of Illinois, and subsequently worked for Eero Saarinen's practice.
Pelli:
I was given the opportunity to work with Eero Saarinen—simply "Eero" to us staff members—and was influenced by him as much as I was by Le Corbusier. I learned from Eero his architectural design outlook and the idea that design must always offer the best solution, which still form the foundation of my thinking. Eero's works were very photogenic, and he as a person was also very popular in the U.S., where he featured on the cover of Time magazine. Eero keenly pursued originality, and made sure his designs were unlike any other, and that his projects were always unique. This approach may have been connected to his training as a sculptor.
Eero's designs were shaped by the requirements each project or program imposed. In no way did the shapes come first. The shapes naturally emerged from the local climate and other features, culture, terrain and characteristics of the site, neighboring buildings, and townscape. The shapes, of course, were also imbued with the spirit of the age, which was important to him as a modernist. He was also someone who listened closely to his clients, not only satisfying their functional requirements but also creating designs that perfectly matched what they had envisaged.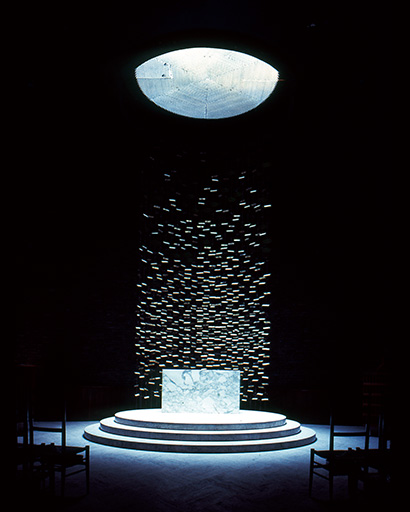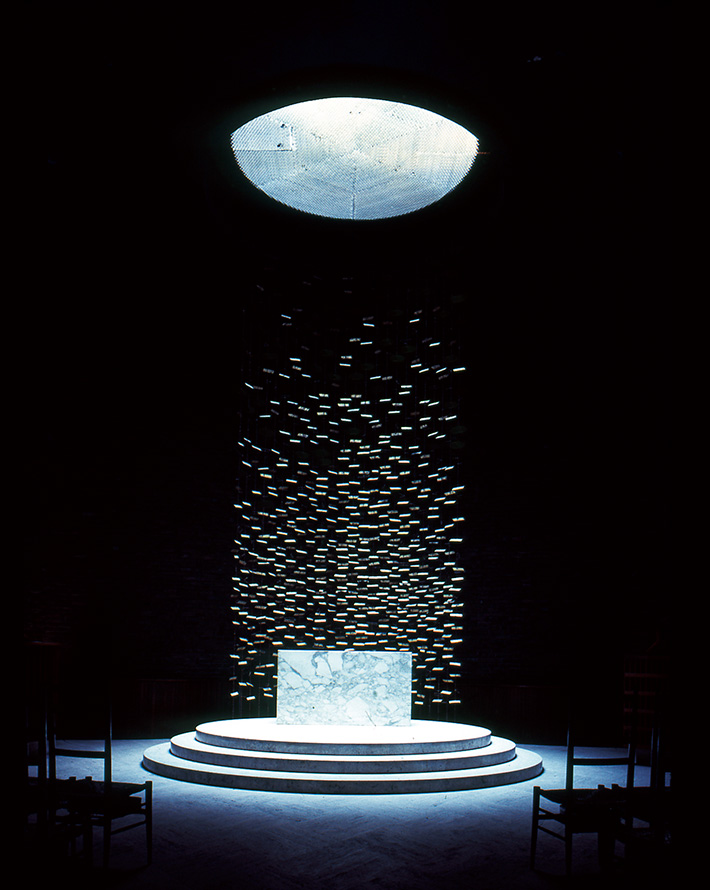 MIT Kresge Auditorium & Chapel by Eero Saarinen (1956) ※❶
Eero died quite young, didn't he?
Pelli:
Yes, had it not been for the illness, his career might have had another thirty or forty years, leaving us with many more wonderful works. Not all of Eero's works agree with me, but I know how remarkably industrious he was, and how dedicated he was to providing the best design, which I always deeply respected.
So, at school I learned from Le Corbusier, and through practical work learned from Eero, with the latter possibly being of greater significance.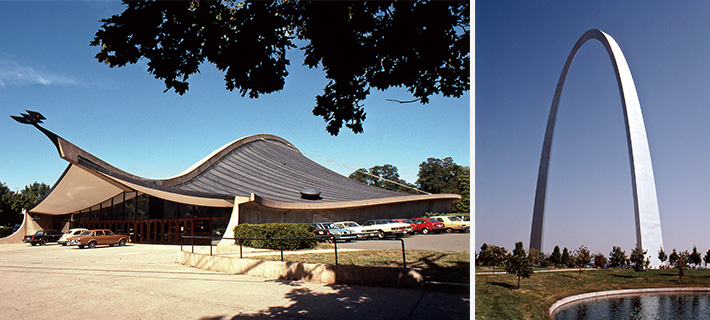 From left to right: Yale University David S. Ingalls Rink (1959) ※❶ Jefferson National Expansion Memorial (1964) ※❶ by Eero Saarinen.
Contact
当協会に関するお問い合わせはこちらからお気軽にどうぞ。
お問い合わせ頂いた内容や記入にあたっての個人情報
などは、
お問い合わせ内容に関してのみ利用させて頂き、
それ以外の目的には一切利用致しません。